»
Notas de Prensa
»
Women and their 'wives' WOMEN AND FEMINIST ORGANIZATIONS ALERT GOVERNMENTS: DOCUMENT UP FOR NEGOTIATION RISKS GOING BACK ON WOMEN'S RIGHTS
Notas de Prensa
Women and their 'wives' WOMEN AND FEMINIST ORGANIZATIONS ALERT GOVERNMENTS: DOCUMENT UP FOR NEGOTIATION RISKS GOING BACK ON WOMEN'S RIGHTS
20 de Marzo del 2014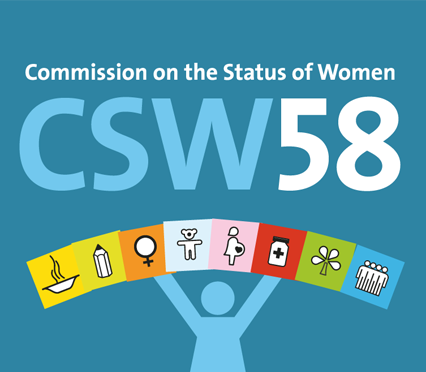 New York, March 19, 2014. Feminist and women's organizations present at the 58th Commission on the Status of Women (CSW 58), warned of the imminent danger of going back on women's rights and international agreements and commitments.
They indicated that Member States are missing the opportunity to transform the conditions that create inequality, discrimination and marginalization for millons of women across the world.
They reminded Member States that, in the Millennium Declaration, governments pledged to "promote democracy and strengthen the rule of law and respect for all internationally recognized human rights and fundamental freedoms, including the right to development" and to "(... ) endeavor to achieve the full protection and promotion of civil, political, economic, social and cultural rights for all in our countries " (Paragraph 24 and 25 Millennium Declaration), therefore , it is unacceptable to try to ignore these agreements and UN commitments .
They denounced that the human rights of women are being called into question in the Commission, by some governments with conservative positions who are blocking the negotiation of the document with the intention to go back on sexual rights and reproductive rights and on the recognition of different forms of violence against women, among other topics.
They qualified as 'shameful' the stand of delegates who went as far as proposing to replace the reference to "women" with the word "wives", the resistance to include diverse forms of family arrangements and the rejection to the visibilization of specific populations. These postures have taken priority over the challenges and outstanding issues on the agenda which have a real transformative approach.
Our organizations demand that governments establish a development agenda articulated with human rights to develop policies, programs and transparent services.
The Committee on the Status of Women this year, whose main theme is the assessment of the challenges and achievements in the implementation of the Millennium Development Goals for women and girls, is held in the UN headquarters from March 10 and ends on March 21 .
Women's rights are not up for negotiation!